Celebrities and their Customised Hermes Birkin
Star actress

Genevieve Nnaji

recently got her Hermes birkin bag customised by Nigerian Artist,

Fred Aghuno

. The artist painted the side profile of a bald African woman wearing white hoop earrings on the blue luxury bag.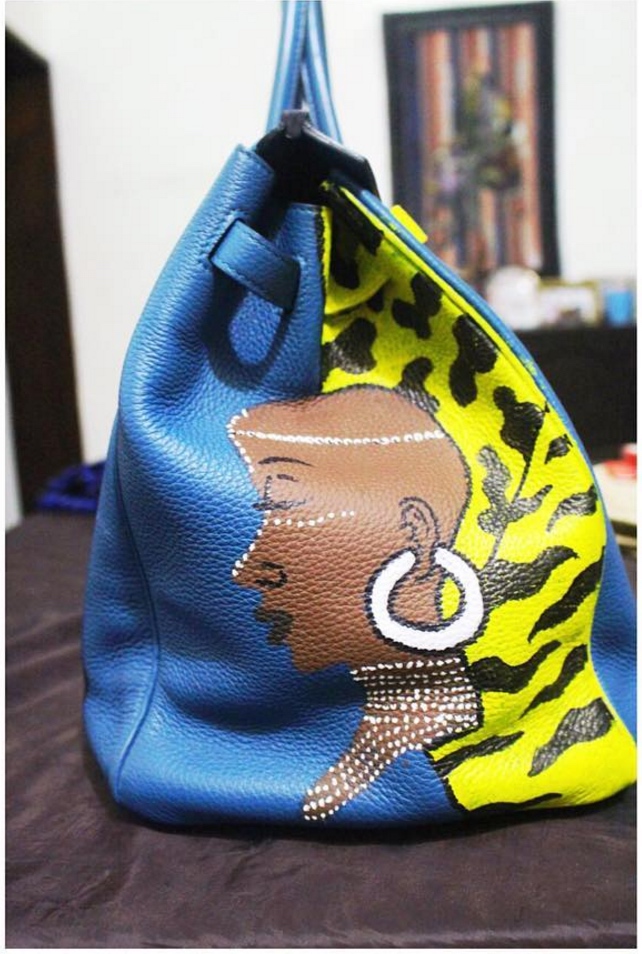 Aside from Genevieve, other celebrities like

Lady Gaga

and

Kim Kardashian

have had their Hermes Birkin bags customised in the past.
For Christmas in 2013,

Kanye West

gave his wife

Kim Kardashian

a Birkin bag hand painted with a million dollar painting by artist

George Condo

on it.
Lady Gaga

has two customised Birkin bags. A studded black one and a white one she had a Japanese fan write, "I Love Little Monsters, Tokyo Love," in black but it didn't stop there.
Artist

Terence Koh

also added a little more black graffiti to the white back.
Khloe Kardashian

also had a customised neon green Birkin with the Monopoly game mascot on it and her nickname 'Khlomoney' by artist,

Alec Monopoly

.
Reality TV star

Nene Leakes

customised her bag with some of her catchphrases from Real Housewives of Atlanta and added some doodles as well.
Rita Ora

also had graffiti artist,

Al-baseer Holly

customize her black Birkin.
Mohamed Hadid

's fiance

Shiva Safai

, also has a cutomised Birkin bag with Mickey Mouse on it.